Carnival Cheat Sheet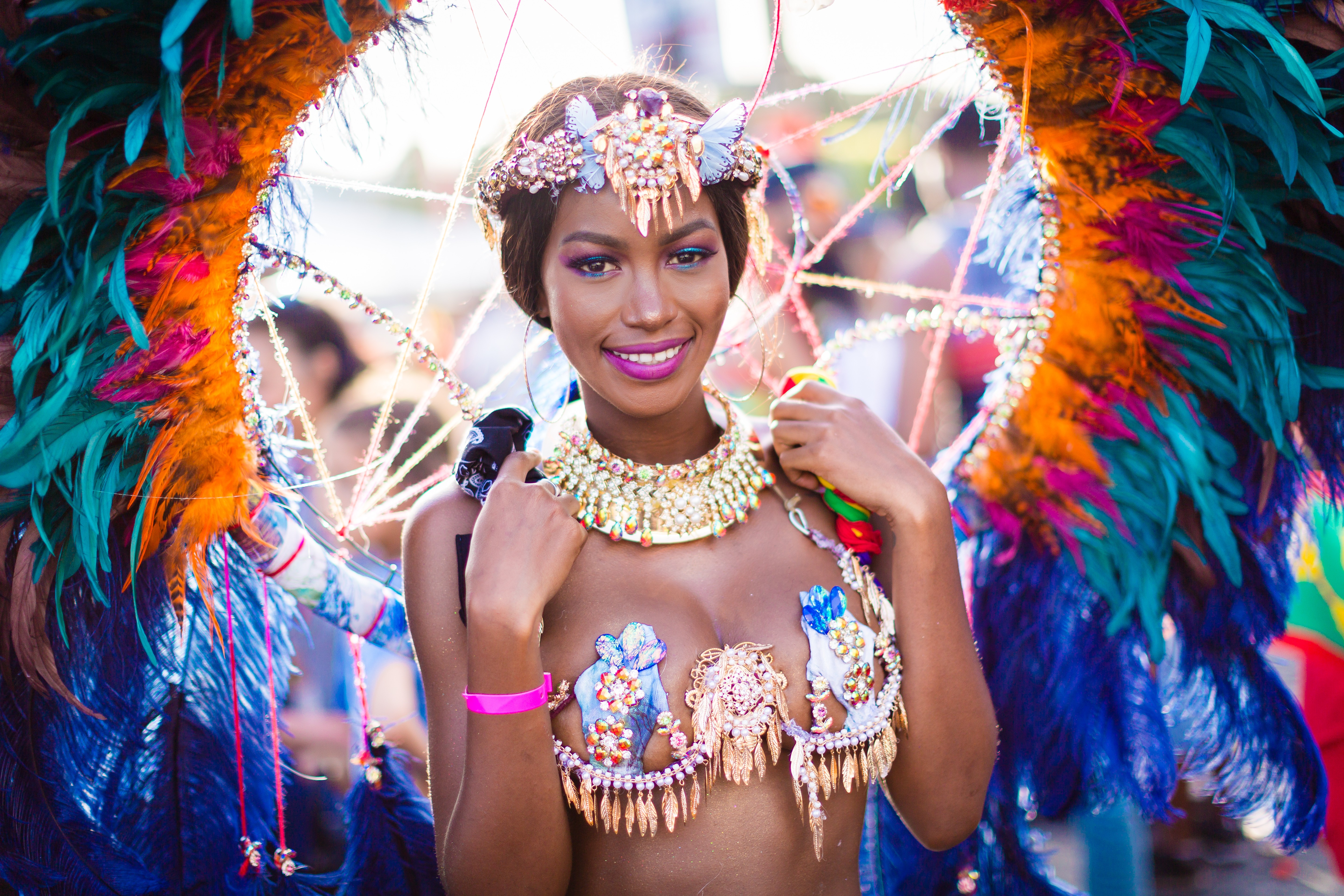 As an outsider looking in, Carnival may seem a little bit intense. It requires complete immersion in a totally different culture, jargon, type of music and dance, but it is one of the most liberating experiences on earth and should be experienced at least once. Disclaimer: No one can do carnival just ONCE.
What is carnival?
Carnival historically is tied to colonialism and religious conversion but, has ultimately evolved into a festival of freedom and celebration; where people come together in beautiful costumes, kick away their daily cares and dance in the streets for the ultimate street parade. What is soca? Soca music originated in Trinidad and Tobago and is the result of a delicate blend of Indian, soul and calypso music. It is the predominant genre of music played throughout the carnival period. What is Jouvert? J'ouvert literally translates to "day-break" and symbolizes the beginning of three days of street parties. Traditionally, j'ouvert begins at about 3am and is celebrated with paint, music and alcohol. What should I wear to j'ouvert? You should definitely wear clothes that you have no problem discarding afterward (or keeping as a memorabilia) since you will inadvertently be covered in paint or, if you're in Grenada, black oil. Comfortable closed toed shoes or sneakers are ideal. What is "bacchanal?" Bacchanal has a bit of a double meaning. It can be used to mean "drama" or having a good time at a party. Refer to Kerwin DuBois' "Bacchanalist" on youtube. https://www.youtube.com/watch?v=FU3qhoP9_X8
What is a fete?
A fete is a party.
What is Mardi Gras? Mardi Gras or Tuesday mas is the big league. The grand finale. It is a giant parade with floats, big musical trucks, sequins, glitter, glamor and rum. The procession starts very early in the morning and dwindles at around 10pm.
How do I get a costume? If you want to take part in these festivities, you must register in the mas band of your choice (usually based on what costume you are most fond of) a few weeks prior to the parade. You will receive full costumes and accessories- exclusive of shoes. If you register early enough, most bands will accommodate any basic alteration to the costume; for example, if you want to cover up more than the advertised option. You will receive breakfast, lunch, snacks and of course unlimited drinks for the parade.
What shoe do I wear? Since you're going to be walking/ dancing for most of the day, you should wear comfortable sneakers or boots. Sandals can be worn but your feet will be terribly sunburned – do at your own risk! N.B: If you are intending to play mas in Trinidad you may need to register months in advance to secure a costume! Be warned.

Here's a list of dates for carnival celebrations in the EC 2023



| | |
| --- | --- |
| Antigua & Barbuda   | August 1 – 8 |
| Aruba     | January 27 – February 21 |
| Barbados     | August 2 – 8 |
| British Virgin Islands    | April 7 |
| Carriacou      | February 20 – 21 |
| Curacao     | February 17 – 25 |
| Grenada   | August 1 – 15 |
| Guadeloupe  | February 20 – 21 |
| Jamaica              | April 12 – 18 |
| St. Kitts & Nevis    | January 2 |
| St. Lucia     | July 1 – 19 |
| St. Maarten        | April 14 – 3rd May |
| St. Thomas        | April 8 – 30 |
| St. Vincent and The Grenadines       | June 30 – July 14 |
| The Bahamas      | April 28 – May 3 |
| Trinidad & Tobago      | February 15 – 22 |
| | |
| | |
Back to:
News